Grass-fed beef temperatures and cooking times
You've brought home a beautiful cut of New Zealand grass-fed beef for dinner. Now, you're no professional chef, but you want to get that perfect cook. But how to make this happen at home? The right time and temperature is the secret to the perfect, grass-fed beef cooked right in your kitchen.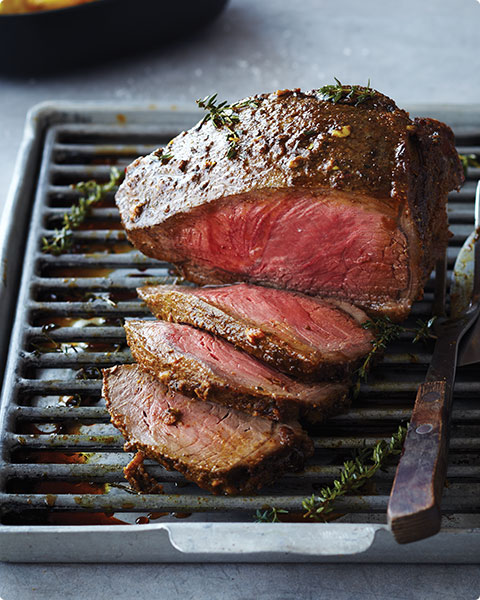 It all depends on the cut
The cut of grass-fed beef you are working with determines the temperature and method you'll use. Cuts can be divided by tough and tender. Tender cuts such as steaks and beef tenderloin are often best cooked quickly to remain juicy and tender. Tough cuts like chuck roast, brisket and short ribs need to be cooked long and slow to break down connective tissue and render fat tissue and render fat.
A note on thick cuts
Thick-cut steaks, such as ribeyes or strip steaks, can be cooked much more evenly by using the reverse sear method. Start the steaks in a 250° oven on a wire rack set in a rimmed baking sheet until an instant-read thermometer registers 110° (for medium-rare) then finish them in a very hot pan. This same technique is hands down the best way to cook large cuts of grass-fed beef such as prime rib or about any beef roast. Instead of finishing your roast in a pan, use your broiler to get that beautiful, bronzed crust.
Buy a good thermometer
Regardless of cut, the most important thing you can do to ensure your grass-fed beef is cooked perfectly is to buy a good instant-read thermometer. Time estimates should only be used as a guideline since many variables can affect how fast your meat cooks. Using an instant-read thermometer takes away any uncertainty.
Perfect beef temperatures
Medium-rare is the most popular temperature to cook grass-fed beef, and deservedly so. At 130-140° the fat marbled in the meat melts, bringing more flavor and tenderness to the meat. However, tough cuts such as brisket and chuck roast are best cooked to higher temperatures until they are tender and starting to fall apart.
Rest your meat
Remember to account for some carryover cooking with thick cuts of grass-fed beef. Thick-cut steaks such as ribeye or strip steaks can rise up to 5 degrees over a 10-minute rest and roasts such as prime rib can rise up to 10 degrees over a 30-45 minute rest. When cooking, plan to take these thick cuts off the heat 5-10 degrees before your target temperature. Resting your meat also helps the juices redistribute so that when you cut in, the juices go in your mouth, not on your plate.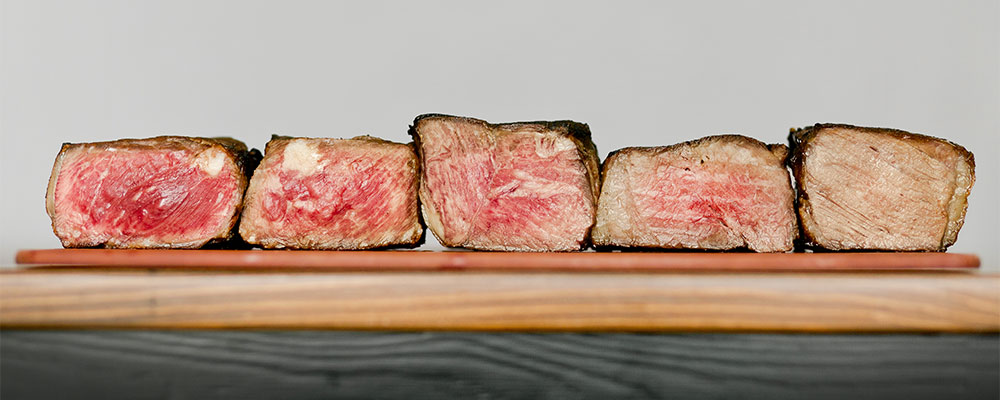 Beef Temperatures Chart
| Temperature | What it looks like (inside) | What it tastes like |
| --- | --- | --- |
| 120° Rare | Deep pink verging on red, very juicy, "bloody steak" | Very juicy, yet slightly mushy texture. Fat hasn't rendered, not as tender |
| 130° Medium-rare | Warm pink, juicy | Juicy, flavorful and tender. Fat beginning to render |
| 140° Medium | Light pink, moist | Moist, but not as juicy. Completely rendered fat |
| 150° Medium-well | Barely pink turning to gray, drier | Moist, verging on dry |
| 160° Well-done | Totally gray, dry | Dry and tough |
Steak cooking times (per side)
| Thickness | Rare | Medium-rare | Medium | Medium-Well | Well-Done |
| --- | --- | --- | --- | --- | --- |
| ½ inch steak | 2 mins or less | 2-3 mins |  3-4 mins | 4-5 mins | 5-6 mins |
| 1 inch steak | 2-3 mins |  3-4 mins | 4-5 mins | 5-6 mins | 6-7 mins |
| 1 ½ inch steak | 3-4 mins | 4-5 mins | 5-6 mins | 6-7 mins | 7-8 mins |
| 2 inch steak | 4-5 mins | 5-6 mins | 6-7 mins | 7-8 mins | 8-9 mins |
| 2 ½ inch steak | 5-6 mins | 6-7 mins | 7-8 mins | 8-10 mins | 9-11 mins |