THE NEW ZEALAND GRASS-FED DIFFERENCE
IN NEW ZEALAND, GRASS-FED MEANS MORE
In New Zealand, grass-fed means something more. The pristine climate makes New Zealand one of the few places in the world where pasture farming can reach its true potential.
IDEAL CONDITIONS
The air in New Zealand is the purest in the world. Crystal clear rainfall is more than plentiful, and it's never too hot or too cold. This helps our young, rich soils grow incredibly lush meadow grass, so our cattle and sheep can graze all year round.
NATURE IS OUR ONLY INGREDIENT
Grass-fed beef and lamb have spent their entire lives in open pastures eating a natural, foraged diet. In New Zealand, cattle and sheep naturally graze, roaming freely and happily in wide open spaces 365 days a year—nurtured the way nature intended.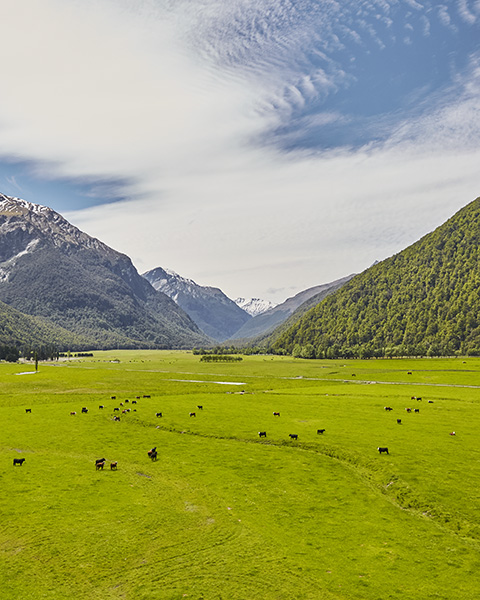 OPEN PASTURES
New Zealand grass-fed beef and lamb are raised on an open pasture and allowed to graze as they please. Our farms provide a stress-free place for our animals to live. It is a calm existence where they can roam and enjoy their natural grass diet. Not surprisingly, this reduced stress promotes animal welfare, making them healthy and strong, requiring few, if any, antibiotics and absolutely no hormone growth promotants (HGPs).
HAPPIER & HEALTHIER COWS AND SHEEP
New Zealand's ideal conditions, grass-fed diets and open pastures greatly contribute to improved animal welfare: these cattle and sheep are happier and healthier. As a result, our grass-fed beef and lamb is not only high quality, but also has significantly better omega-6 to omega-3 ratios, and higher concentrations of CLAs (Conjugated Linoleic Acid) and antioxidants. Clearly, grass-fed and pasture-raised is healthier for the animals, for the environment, and ultimately for you.