Grass-Fed Lamb Temperatures and Cooking Times
Cooking grass-fed lamb is a lot like cooking beef. In fact, it is leaner and more tender than beef, and doesn't need much to taste great. Grass-fed lamb cooks a lot like grain-fed lamb, only it's a little leaner and more flavorful. A quick note on grass-fed lamb. Most people think all lamb is grass-fed. Actually, a lot of US lamb is fed grain during the winter months or leading up to slaughter. To ensure your lamb is truly grass-fed, look for certified grass-fed New Zealand lamb. Depending on the cut of lamb you are working with, you will want to cook it hot and fast or low and slow, or a combination of both. This guide should help you navigate the methods, times and temperatures to cook your lamb perfectly.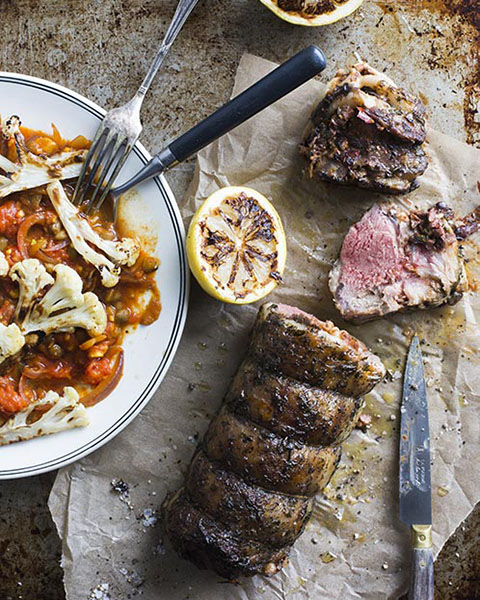 Braise
Cuts like lamb shoulder or lamb shank come from hard-working muscles on the lamb making them extremely flavorful, but not as tender. However, braising these cuts makes for extra tender and tasty results. A simple method for braising is to salt, sear, then add liquid and aromatics, and then cover to simmer for a couple hours. If you would like to make a stew, add some chopped root vegetables halfway through cooking. After 2-3 hours, the lamb will be fork tender, perfect to pair with crusty bread.
Roast
For larger, more tender cuts of lamb, roasting is the best method. A rack of lamb or a boneless leg of lamb roasted to a rosy, juicy medium (140℉) to medium-rare (130℉) is pretty much perfection on a plate. For the most even, flavorful results, we recommend an overnight dry brine and a reverse sear. A dry brine is as simple as generously sprinkling it all over with kosher salt and refrigerating overnight on a wire rack set into a rimmed sheet pan. From there you set it into a 250℉ oven for 1-2 hours (depending on the thickness of your roast) or until a thermometer reaches 110-120℉ in the thickest part of your roast. Then turn on your broiler and turn until you have a beautiful bronzed crust on all sides and a thermometer reads at 130-135℉. This roast will be rosy pink all the way to edges, perfectly cooked and tender.
Grill and Sear
If you are working with any kind of lamb chops, grilling or searing is the best method to keep them tender and juicy. Thinner cuts can be cooked hot and fast, while thicker chops do best on a two-zone fire. This method keeps starts the chops on the cool side of the fire then finishes them on the hot side for quick sear for a minute or two on each side. The thicker the chops, the longer you keep them on the cool side of the fire. Using an instant read thermometer takes the guesswork out of grilling and searing your grass-fed lamb since you can cook it to an exact temperature, ensuring delicious results every time.
Lamb Temperatures Chart
| Temperature | What it looks like (inside) | What it tastes like |
| --- | --- | --- |
| 120° Rare | Deep pink verging on red, very juicy, "bloody" | Very juicy, yet slightly mushy texture |
| 130° Medium-rare | Warm pink, juicy | Juicy, flavorful and tender |
| 140° Medium | Light pink, moist | Moist, but not as juicy. Completely rendered fat |
| 150° Medium-well | Barely pink turning to gray, drier | Moist, verging on dry |
| 160° Well-done | Gray throughout | Dry |